Central Division Safety Team
Kevin McQuillan
Program Supervisor
Team Vision Statement
The Central Division Safety Team will be a leading authority in promoting safety in outdoor sporting activities and events.
Team Mission Statement
The Central Division Safety Team is an industry leader in the promotion and education of outdoor recreational safety. The Team upholds the National Ski Patrol's and Central Division's mission and core values.
Methods of distributing safety materials while maintaining respiratory viral precautions:
Consider activities that maintain social distancing, masking with proper cleaning and hygiene.
Prevent crowds and large gatherings.
Outdoor venues that are well ventilated.
Distribute safety materials outside while guests are waiting in lines.
Scavenger hunts for safety items.
Suggested activities
Have a booth or tent at your base area to hand out safety information.
Use for kids that have been separated from their parents.
Distribute at the chairlift with guests.
Give to guests who visit your on-mountain duty stations.
Have your season pass and ticket office hand out to guests getting passes.
Distribute to kids in a ski school class or winter program.
Meet with your local ski and snowboard racing clubs and distribute.
Offer them to the schools when you do outreach and educational visits.
Work with your conference sales group and have items placed in welcome packets.
Work with your lodging department and have items left in guest room.
Give to your patrol staff and mountain safety patrols to give to injured guests.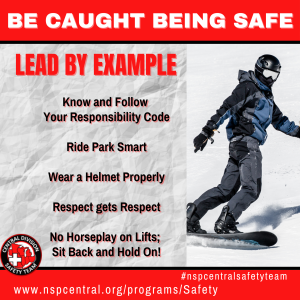 To learn more, go to:
These resources and materials are available for Safety Events Sponsored by Patrols. Contact your Safety Team for more information.
Neck Gators:
Stickers:
What is available for Free?
Helmets Tips
Lift Tips
Public Service Announcements
These PSAs and PSVs are also available to individual patrols to promote skiing safety.

If you would like more information about how to use them, contact marketing@nsp.org. You can find them at:
https://nspserves.org/psas/
Additional PSA for use by your patrol:
GEAR AND SAFETY Play
BASIC BACKCOUNTY SAFETY Play
SUN AND UV PROTECTION Play
TRAIL MARKINGS Play
TERRAIN PARKS Play
SIDECOUNTRY SAFETY Play
GEAR TUNE-UPS Play
HELMET SAFETY Play
TREE WELL SAFETY Play