Central Division 2017 Patroller Conference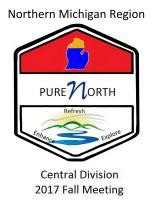 Reserve the dates September 8, 9 and 10 2017 for the 2017 Central Division Patroller Conference at Boyne Mountain Michigan. With classes in MTR, Low Angle Rescue, Adaptive Lift Evacuation, Risk Management, Bike Patrols and more this weekend promises great education and camaraderie.
Events:
Motorcycle Ride on some of Northern Michigan's curviest roads including the famous M119 and the Tunnel of Trees.
Golf at Boyne Mountain (Golf Fees extra).
Tour Shaggy Skis and learn how skies are made. Shaggy's is Northern Michigan's Artisan Ski Maker.
CPR Refresher. Bring your current CPR Card and face mask (both required) for an AHA CPR Refresher. (Note. There is an additional $15.00 fee for this program)
Medical presentations by Northern Michigan Orthopedic Surgeons
Risk Management with the attorneys that represent our resorts and us.
Incident scene investigation for patrollers, what should be investigated and what evidence should be protected until the investigation team arrives.
The classroom portion of Mountain Travel and Rescue level 1. (This class requires a field session that will be scheduled at a later date.)
Everything you want to know about bike patrols (well almost everything)
Senior Trainer/Evaluator for OEC Instructors. We will have an online program for the didactic materials before you arrive and do the scenario portion here.
Presentation session for a hybrid Instructor Development Class. Complete the online portion and bring your certificate to complete "hands-on" portion of the class.
Ski Industry Trade Show. Meet and talk with vendors.
Fall Division Board Meeting.
Patrol Director 101 Update.
Jeannie Thoren for boot fitting analysis (additional fee applies).
A modest $25.00 Registration Fee covers all the above programs unless otherwise noted. Reserve your space today.
Meals:
Friday night "Back Yard Cook Out" on the Shore of Deer Lake.
Saturday Night Awards Dinner and celebration of member accomplishments.
Sunday Morning Patrol Directors Breakfast with Region Director John Thomas.
Other Things to do:
Zip across Boyne Mountain or Boyne Highlands on a Zip Line Tour.
Fly Fish some of best trout streams, guided or on your own.
Surf at Avalanche Bay.
Bike from nearby Gaylord to Mackinaw City on one of our longest "Rails to Trails" paths (62 miles) in Northern Michigan. Then take the ferry to Mackinaw Island and bike Michigan's only motor vehicle Free State highway M185. Or ride the chair to the top of Boyne and bike the local trails.
Climb a Sand Dune at Sleeping Bear National Lake Shore.
Discover one of Northern Michigan's Wineries or Microbrews.
Float or paddle the Jordon River.
And lots, lots more.
Housing:
Mountain Grand Lodge King or Queen - $127.00
Boynehof Queens - $112.00
Clock Tower Deluxe - $90.00
(Room rates are per night and are subject to 7% Resort Services Fee, 6% Michigan Sales Tax and 5% Local Lodging Assessment.)
Reserve your room at Boyne Mountain Resort Reservations or call 800-462-6963 and ask for National Ski Patrol Meeting.
Join us at Boyne Mountain to Explore, Refresh and Enhance our patrol skills.